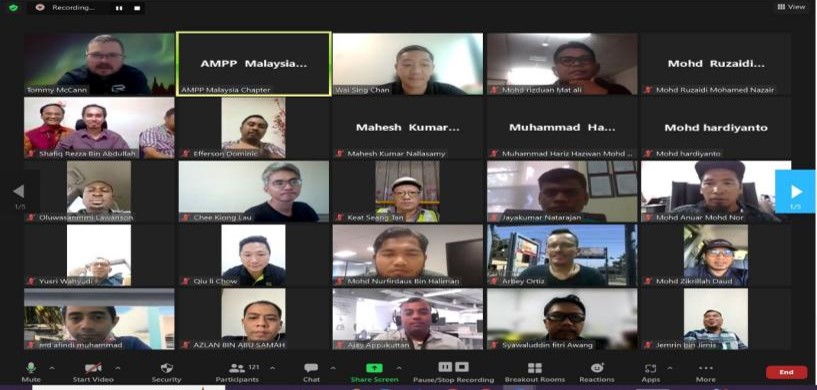 AMPP MALAYSIA CHAPTER - VIRTUAL TECHNICAL TALK
Internal Corrosion Monitoring Location Selection Considerations & Technologies
Having Mr. Tommy McCann from Rysco International as a speaker was an honor for the AMPP Malaysia Chapter. It was a great opportunity to widen one's knowledge of internal corrosion, specifically about monitoring location selection and types of monitoring techniques. 150 participants from various industries, ranging from petroleum workers, technicians, technologists, academicians and students joined this virtual one-hour talk. An hour session was insufficient when the topic was so interesting, and it captured two-way interactions between the speaker and the audience.
Mr. Tommy McCann divided the talk into two key sessions. First, he discussed factors in selecting the location of internal corrosion monitoring. Second, he reviewed the types of monitoring techniques used in the field.
Failure to select the right location for monitoring internal corrosion will lead to disastrous accidents with enormous financial and economic losses and could be life hazards for the personnel. This Virtual Talk captured the attention of the audience from various job backgrounds, including academicians, where all had a chance to receive first-hand knowledge from the speaker with 15 years of field experience.
With extensive experience in internal corrosion monitoring, Mr. McCann effortlessly explained the factors for selecting the monitoring locations. Generally, the selection depends on the process condition, corrosion mechanisms, mitigation method, and the accessibility of the monitoring location.
He also pointed out a few important factors related to the internal corrosion of piping systems, such as fluid composition, pH, temperature, contaminants, flow rate, oxygen content, and microbial activity. All of these are factors to be considered as it influences the process condition.
After considering the above aspects, historical data too, should be considered for location selection. With this information, the location selected will then be representative, and the monitoring device that is being used is able to provide accurate data for the analysis of the rate of internal corrosion and pitting, or any possibility of faulty occurrence.
In this session, the speaker also shared monitoring systems and techniques that are commonly practiced in the oil and gas field. There are two common systems categorized by the system's pressure, that being high-pressure access fitting and low-pressure retractable. He also stated that there are two techniques used in corrosion monitoring which are mechanical and electrical techniques.
Both devices are further categorized as intrusive and non-intrusive. Intrusive corrosion tracking means inserting probes or sensors into the pipeline to directly measure the corrosion rate and to identify places where corrosion might be occurring at a quicker rate. On the other hand, non-intrusive corrosion monitoring includes using external sensors or techniques to measure the corrosion process indirectly without actual penetration on the pipeline or equipment.
The common mechanical technique of monitoring corrosion with the use of corrosion coupons are scale coupons, bio-probes and erosion sacrificial probes. These provide the corrosion and pitting rate via physical assessment based on the weight loss of the coupon.
Scale coupons are small metal plates that are inserted into pipes or other equipment to measure the rate of scaling and deposition, which can lead to rusting.

Bioprobes are inserted into pipes or other equipment to find out if bacteria or other microorganisms are causing microbiologically influenced corrosion (MIC). These probes can provide the type and quantity of germs present and therefore, the likelihood of MIC occurrence.

Erosion probes are metal rods or plates that are inserted to measure the rate of erosion caused by abrasive particles or fluids flowing through the pipes or equipment.
As for the electrical technique, electrical resistance is used, and it is based on element mass loss by erosion of the environment. It used a data logger or transmitter to obtain data readings.
In conclusion, to combat corrosion, the engineer needs to know corrosion factors and identify the susceptible corrosion location. By understanding the usage of a suitable corrosion monitoring system and technique, one can track and mitigate corrosion that is occurring inside the pipeline system. Overall, this sharing has been beneficial in enhancing one's knowledge.
Authors:
Liyana Yasmin Binti Azhar

Industrial Corrosion Research Centre (InCORE)

School of Chemical Engineering, College of Engineering

Universiti Teknologi MARA.

Nursafika Bahira Binti Juli

Industrial Corrosion Research Centre (InCORE)

School of Chemical Engineering, College of Engineering

Universiti Teknologi MARA.