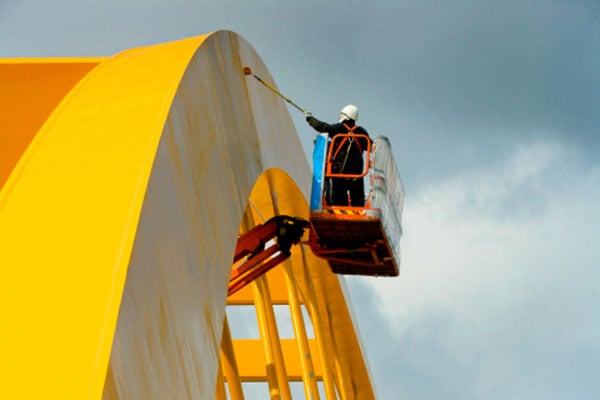 When it's time to hire a coating contractor, asset owners want to get the job done right the first time. Low-bid, low-quality contractors are out there, so owners should look for these five indicators to ensure a high-quality outcome. Here's what asset owners from the transportation and petroleum industries say makes one coating contractor stand out from another.
Accreditation
Accreditation proves that a coating contractor has passed a rigorous administrative and on site audit inspection of its work practices. To earn, coating contractors must demonstrate the highest levels of administrative, safety, and process oversight, specialty knowledge, product and service quality. For example, SSPC's QP programs (now offered through AMPP following its recent merger with NACE International) offer facility owners the advantage of knowing that the industrial painting contractor who is working on their project has the experience, knowledge, and equipment to produce quality work in accordance with the local, state and federal guidelines for safety, health and environmental compliance.
A Reputable Work History
Asset owners seeking a reliable, high-quality coating contractor look to a company's reputation within the industry as well as a history of delivering successful coating projects. Customer reviews and testimonials from past clients play a role in building a coating contractor's good standing within the community.
Financial Soundness
Are the coating contractor's finances such that they can afford to pay employees and subcontractors and purchase tools and supplies? Is the company appropriately insured? A solid footing of good accounting practices helps to assure asset owners that the contractor will, at the very least, stay in business long enough to get their job done.
Rework Frequency & Speed
Asset owners want to see whether a coating contractor has quality assurance procedures that minimize rework and downtime. They're also looking for established procedures or guarantee programs for when repairs or reapplication does become necessary.
A Culture of Safety & Risk Management
When accepting bids on a coating project, many asset owners seek out a coating contractor who emphasizes a culture of safety and integrity within the company. OSHA and EPA violations carry big fines and often result in downtime - which can affect the asset owner's bottom line. Experience Modification Rate (EMR) is a figure used by insurance companies to measure the chances of risk and the past cost of injuries within a company. Asset owners should seek an EMR of <1.0 when hiring a coating contractor.
For all things coatings, don't miss the Coatings+ conference presented by AMPP, scheduled for December 13-16, 2021 in Phoenix, AZ. Stay current with the latest protective coating tips, techniques, and technologies with a a free subscription to CoatingsPro Magazine.
FREE DOWNLOADS
White Paper: An Action Plan for Reducing Pipeline Failures, Costs with Corrosion in the Water Sector
Special Report: The Future of Corrosion Control, Insights from the Experts