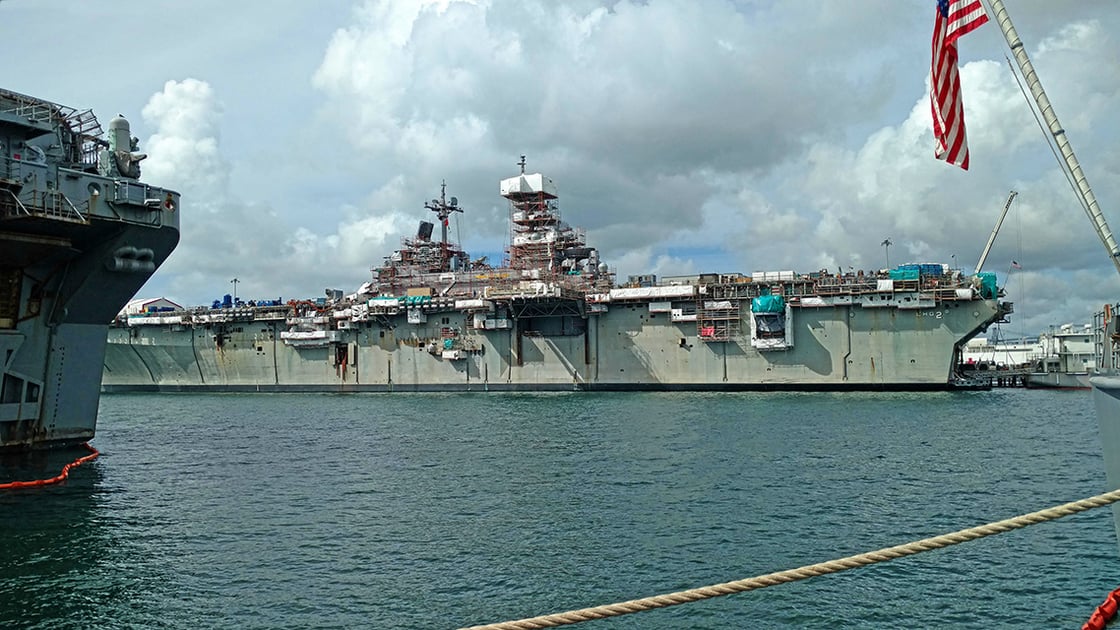 Commissioned in 1992, the USS Essex is a Wasp-class landing helicopter dock (LHD-2) in service with the U.S. Navy. ­ Though the 844-foot-long (257.3 m) ship is named for Essex County, Mass., her home port is the Naval Base San Diego in California.
With more than 25 years of operation and consistent exposure to marine environments, coating on the ship has frequently been a challenge. For both aesthetic purposes and corrosion resistance, the Navy wants to keep these vessels as shiny as possible.
"We've seen the silicone alkyds that the Navy has used for coating ships for decades," said Gordon Kuljian, a chemical engineer and independent consultant with GK Consulting LLC. "­ They look great when applied, but over time they show a lot of chalking and fading, which requires significant recoating." Based in nearby Temecula, Calif., Kuljian has worked with the Navy over the years on a number of projects, including this one.
Coatings touch up resistant to shipboard contaminants needed
The Ship's Force on the Essex had recently requested a repaint of the entire 105,000-square- foot (9,754.8 m2) freeboard, but with a product that performed better than traditional silicone alkyds. As a result, U.S. Naval Research Laboratory (NRL) officials worked with coatings manufacturer NCP Coatings Inc. to develop a new, single-component (1K) polysiloxane coating. Known as SiloxoShield, the product was designed to improve the durability and color retention of the Navy's topside coatings.
"­The Navy was in need of a better solution for all the topside painting performed by sailors on surface ships," said Erick Iezzi, senior research chemist at NRL's Center for Corrosion Science and Engineering. "The 1K is advantageous in that it provides greater than five times the retention of visual camouflage and better resistance to shipboard contaminants, such as running rust and soot, than the legacy silicone alkyds, which should reduce future costs to the Navy by eliminating the need to overcoat the latter every 9 to 12 months as a result of discoloration and staining."
Single-component refers to an all-in-one-can system that does not require the measuring and mixing of two or more components before application. In turn, this makes for a more user-friendly system for sailors when applying coatings on ships, and it allows the Navy to reduce costs by not having to hire a complete crew of professional contractors. "The 1K polysiloxane is easy to use. There is no mixing, surface preparation is easy, and it covers well," said Donald Ham, a Navy lieutenant and assistant deck department head for the Essex.
Courtesy of that collaboration with the industry, a new military specification (MIL-PRF-24635) has brought more consistency in color. "What we had had in the past, for 40-plus years, is that even though different companies are qualified for a specification, everybody's version of haze gray is different," Kuljian said. "There's a slight batch-to-batch variation in color appearance as well as differing weatherability among the qualified manufacturers. Now, it's only made with NRL's NAVSEA [Naval Sea Systems Command] standard pigment package."
The decision to use SiloxoShield on the Essex was made after installing a series of test patches with different surface preparation and different exposures — full sun versus shade, full salt spray versus facing a pier. "After two weeks, we assessed the adhesion, and we made our decision to go forward. It looked great," said Kuljian.
Ship's coatings applied by sailors for cost savings
Having the right coating was only part of the equation, though. While the technical features of SiloxoShield looked promising, the desired cost savings were only achievable if it was applied by the sailors on the Essex Ship's Force. To guide them with professional expertise and also to stick within the desired time frame of approximately one month for the job, NAVSEA's Painting Center of Excellence enlisted Kuljian — a NACE Level 3 coatings inspector and protective coatings specialist — to train and supervise the sailors for the coating's application. All work was done at the ship's home port, also known as the 32nd Street Naval Station.
"We usually don't have a ship of this size being completely prepped and painted by Ship's Force," Kuljian explained. "The Ship's Force does paint, but they don't always do the proper surface prep that is desired, and they don't undertake a job this big."
To make such a large job work, meticulous planning was essential. "They had a leadership team on the Essex committed to getting this done," Kuljian said. "They had hands-on technical support — I was there for the application. They were well supplied with the equipment that they needed. A lot of planning had to go into this, especially to pull it off within 30 days."
Attention to safety, surface prep, and the environment
Personal protective equipment (PPE) for the Ship's Force crew, which was as large as 14 members, consisted of both standard gear and extra precautions due to working on the water. PPE consisted of safety glasses, hard hats, hearing protection, steel-toed boots, and life jackets. Dust masks were worn during surface preparation to protect from dust inhalation but were not required during painting since the coating was applied by brushes and rollers.
"The whole idea of this effort is that we just used organic labor," Kuljian said. "They don't always have access to fancy airless spray equipment, nor are they necessarily trained to use it. The whole idea is, 'Can we get this done with the Ship's Force labor?' Just readily available equipment like brushes, rollers, abrasive materials, and things of that nature.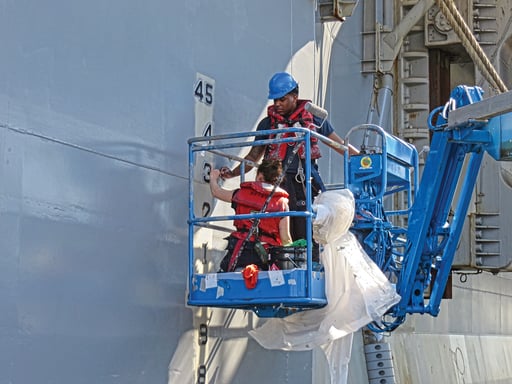 IMAGE: With equipment procured from the Navy's Southwest Regional Maintenance Center, the sailors worked off rented manlifts from the pier to coat the outer hull; a floating scaffolding platform from the pier to coat the outboard; and high-reaching lifts mounted off large floating barges to coat the ship's side that was in the water. Photos courtesy of GK Consulting, LLC and NCP Coatings Inc.
Environmental concerns on the water also had to be taken into account. The temperature needed to be a minimum of 5 °F (2.8°C) above the dew point prior to painting; and to prevent any spillage into the water, each man basket was lined with 3-mil (76.2 microns) plastic sheeting for containment. As is often the case in San Diego, temperatures were quite comfortable throughout the month-long project, and they didn't have much rain. Daily marine layer intrusion, however, tended to limit the working hours due to condensing humidity.
Working section by section, surface preparation consisted of cleaning the existing surface with water and lint-free cotton rags, and hand sanding with 80- to 100-grit aluminum oxide sandpaper. For any areas showing signs of corrosion, crew members prepped that spot to bare metal and applied a nominally thin layer of an epoxy primer — either PPG's Amercoat 240 or AkzoNobel's Interbond 998.
"If I saw that they were not touching up the bare metal where they should, I would make sure they were doing that," Kuljian said. "I had to make sure they would hand-sand the surface before they would roll the coating on. When you're under a time constraint, the temptation is always there to not do as diligent a job of surface prep as you might need to do."
Once the surface was prepped, the crew then applied the SiloxoShield N-9999 Haze Gray single-component polysiloxane at 2–3 mils (50.8–76.2 microns) of wet film thickness (WFT), or a rate of approximately 320 square feet per gallon (7.8 m2/L). "We'd coat the area that was sanded within 24 hours to minimize contamination," Kuljian recalled. Application tools included 3/8-inch (0.95 cm) soft woven, lint-free rollers with 9-inch (22.9 cm) roller handles; polyester filament paint brushes; and 6- to 8-foot (1.8–2.4 m) wooden extension poles.
A superior coatings program for the Navy's needs
Ultimately, the job was completed within the expected time period of four weeks. "It proved that, with proper planning, leadership, and support, an effort this large can take place on a large Navy ship," Kuljian said.
According to the Navy, the new coatings system included:
• at least four times the color and gloss stability compared to traditional silicone alkyds;
• superior surface hardness and cross-link density relative to silicone alkyds; and
• greater color and gloss stability as compared to earlier versions of approved two-component (2K) polysiloxanes
•the benefit of simpler application, as shown by the work of the Ship's Force crew
• a vessel that can now go for years — rather than months — before needing to be recoated
"We painted our entire hull with approximately 320 gallons [1,211.3 L] of the 1K, whereas it would have taken greater quantities of qualified 2K polysiloxanes," said Ham. "Thus, we not only saved time, but we saved money. The best part is that the 1K polysiloxane rolls on the ship just like the legacy silicone alkyds."
Kuljian also credited a commitment between all parties to making this happen "from the Ship Force's leadership to their own supply and procurement department to NAVSEA's approve all the procedures that we proposed. "The coating manufacturer also had to be able to supply and deliver all the coatings and ship them across the country in a time frame that could support when we had to do this."
Free subscription! NACE's Maritime News is a tri-annual, digital publication providing information related to the causes of maritime corrosion and coating solutions for its mitigation. Sign up today!
Source: Originally appeared in CoatingsPro Magazine, November 2020, by Ben DuBose.
FREE DOWNLOADS
White Paper: An Action Plan for Reducing Pipeline Failures, Costs with Corrosion in the Water Sector
Special Report: The Future of Corrosion Control, Insights from the Experts